View Video Tutorial Here.
Using eCards on your donation form are a great way to encourage supporters to donate more frequently in honor of or to celebrate a loved one.
At Donately, we make this feature easy yet customizable.
You'll find the eCard under the "extras" section in the Form Builder.
You have the option to add up to 4 different card photos that your donor can choose from when sending their eCard.
You'll also find the ability to edit the eCard email content for both 'in honor of' and 'in memory of' card options, as well as, the eCard email footer, so you can share more about your cause with the eCard recipient.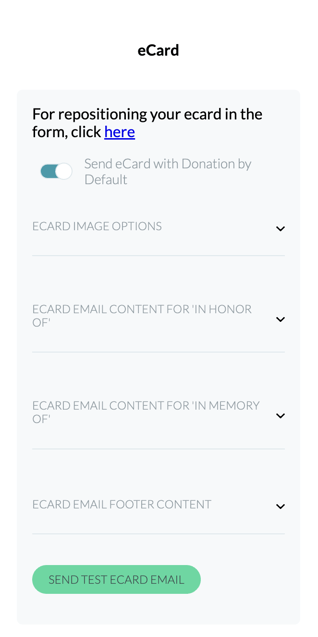 To help you better understand how these customizations impact not only what your donor sees but also the eCard recipient, we've provided the photo below.
The email subject, eCard image, email content, and email footer are all customizable options that should still be considered when adding an eCard to your donation page. The more you share about your cause and organization, the easier it becomes to fundraise.