We designed our Campaign & Fundraising pages specifically for telling your story and converting visitors into donors. However, we recognize the design elements are not "one-size-fits-all"! With that in mind, you have access to a few additional customization options for Campaign and Fundraising pages on our Team Plan.
Specifically, you can optionally hide the following on any Campaign and Fundraiser page:
The progress bar (red box below)
Total supporters (green box below)
Goal amount (blue box below)
Total raised (yellow box below)
Campaign Title (purple box below)
Lead-in Form (black box below)
Additionally, you're able to adjust the primary color on these pages, which is shown on the main button color, the progress bar (if visible), and the lead-in form (if visible). In the image below, the primary color is purple, but you can pick any color you'd like!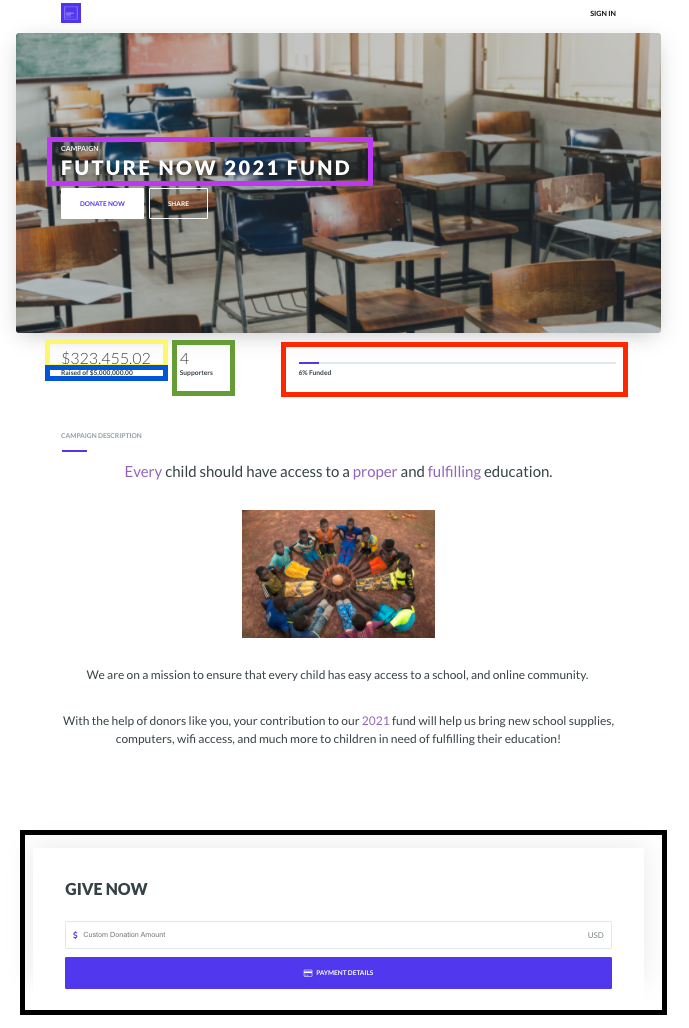 You can also hide elements specific to Fundraising pages. In addition to things like hiding the goal stats (green box below) and lead-in form (red box below), you can also hide:
the recent donors (orange box below)
Any comments associated with their donations (blue box below).
Additionally, you'll see the same primary color carry through to the Fundraising pages.