Activating your donor/fundraiser profile is a huge benefit. With access to your profile, you're able to edit recurring donations and fundraisers, as well as see your year-end tax receipt for all donations.
Please note: Activating your profile is a different process than creating a full account via the Donately website. If you are seeing steps to sign up for Stripe or link a bank account, please get in touch with us and we can close your full account. Please head directly to this page in that case.

Follow these steps to access your Donately donor profile:
Step 1. Confirm your email
Click here, and enter the email address that you used when donating or creating your Fundraiser.
If the link above doesn't work, copy and paste this link into your URL bar:
https://dash.donately.com/activate_donor_profile
Step 2. Check your email
You should receive an email from Donately with the subject line: "Set Your Donately Password" from "donotreply@donately.com".
That email should look like this: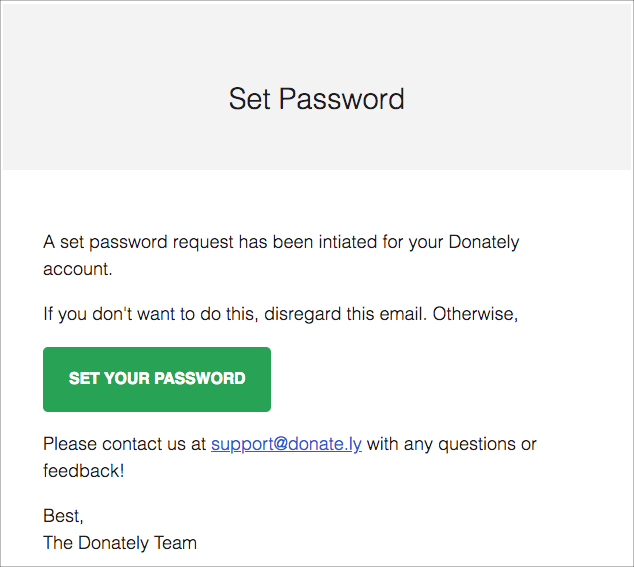 Click on the "Set Your Password" button in that email. Just note: this link expires 24 hours after it is sent. After 24 hours, you'll need to request another set password link.
Step 3. Set a new password
When creating a password, the in-line prompt will check to be sure it meets all security requirements. As soon as you meet all requirements, the help prompt will disappear.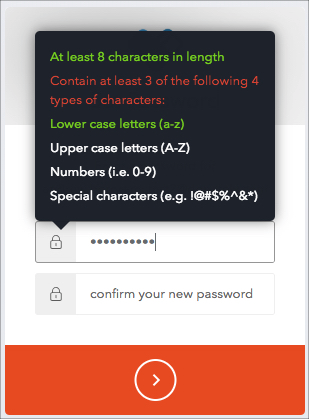 As you can see, your password will need to be at least 8 characters in length. In addition, it will need 3 of the following 4 types of characters:
1. lower case letter
2. UPPER CASE LETTER
3. Number
4. Special Character
Enter your desired password, then confirm it in the next box. The box will let you know of any unresolved issues. After the password is saved, you'll now need to log in with your need password.
From there, you should see your donor/fundraiser dashboard: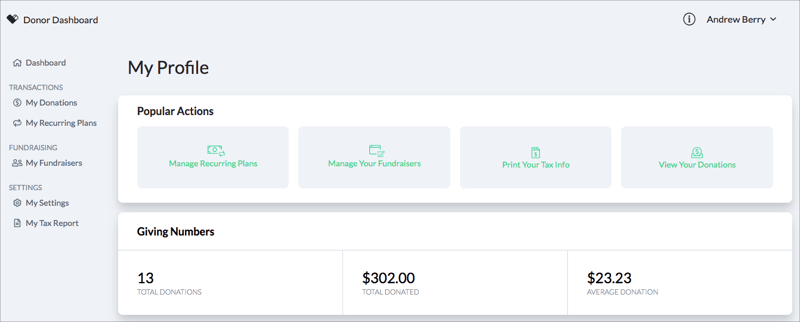 From here, you're able to edit recurring donations, resend donation receipts, edit fundraisers and more!
If you'd like to edit personal information, such as Name or Address, simply click "My Settings" on the left-hand side.
For easiest access for the future, bookmark this link: