Your main Donately page is the perfect place to introduce your cause to potential donors. On this page, you can upload a beautiful cover photo and add some content about what you're raising money for.
Editing this is all done from your "Account Settings" page. Follow the steps below to customize your Donately page.
Step 1. Navigate to your Account Settings page
From any page on your Donately dashboard, click "Account Settings" from the left-hand menu.
Step 2. Scroll to the section titled "Donately Pages"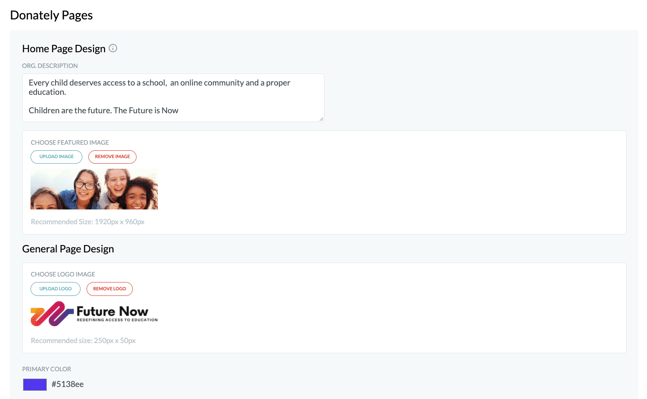 Within this section, you will find the places to add a description, upload your featured image and choose a logo. Note that your logo will be located in the upper left-hand corner of all your Donately Campaign and Fundraiser pages as well.
Step 3. Click "Save" and view your page!
Once you've finished with Step 2, be sure to scroll down to the bottom of the page and click "Save". This should update your live page with the content you just entered. You can find the URL to this page at the top of the Account Settings page, starting with "https://pages.donately".
Once on this page, donors can read the content you've entered, donate to your cause, or find an active Campaign or Fundraiser.